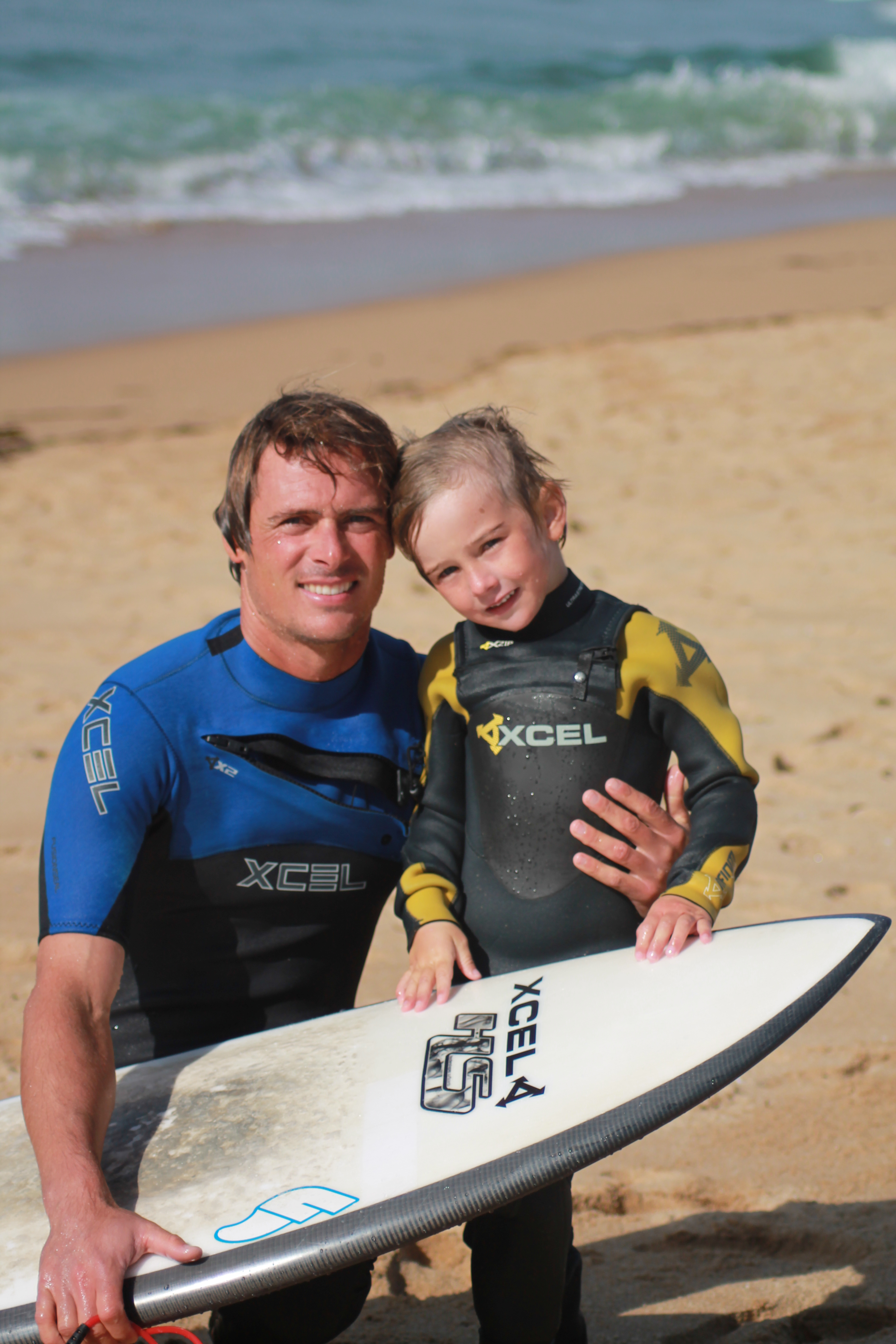 Transmettre sa passion je crois que c'est viscéral. Je ne me suis jamais dit  que je voulais faire de mon fils un surfeur et il n'en sera peut-être pas un. Enfin, je l'ai peut-être pensé très fort parfois car quand on voit certains partager le Surf en famille ça donne quand même bien envie ! Et malgré ce souhait paradoxal de ne pas  trop l'influencer, je l'ai mis sur une planche dès que cela a été possible ! Progressivement bien sûr, dans des conditions d'été à marée basse quand j'étais disponible, c'est-à-dire pas souvent en pleine saison, et sinon sur son skate pour se défouler de temps en  temps après l'école. L'envie de transmettre ma passion à mes enfants prolonge dans ce partage mon plaisir pour les sensations de glisse. Kristen n'est d'ailleurs pas en reste pour ce qui est des sensations !
Être baigné dans un milieu depuis tout petit incite forcément les individus mais sans pour autant les contraindre d'autant que comme activité sous influence il y a pire, non ?! Et puis chez nous l'hiver est tellement long que cela laisse le temps pour s'ouvrir à d'autres activités et d'autres horizons ! Ici, avant 10 ans, on ne surfe pas toute l'année comme sous les tropiques. Pour l'hiver, on a le Skateboard comme excellent jeu de glisse et comme palliatif qui tombe sous le sens ! … lorsqu'il ne pleut pas… !
Bref, le temps passe tellement vite que nous garderons ce petit souvenir "father and son" ! C'est aussi ma première réalisation vidéo d'une piètre qualité certes mais il faut bien commencer un jour ! Petite dédicace à Émeric Kerlo de Altered Vision au passage pour toutes celles qu'il a pu me produire auparavant "just for the fun" !