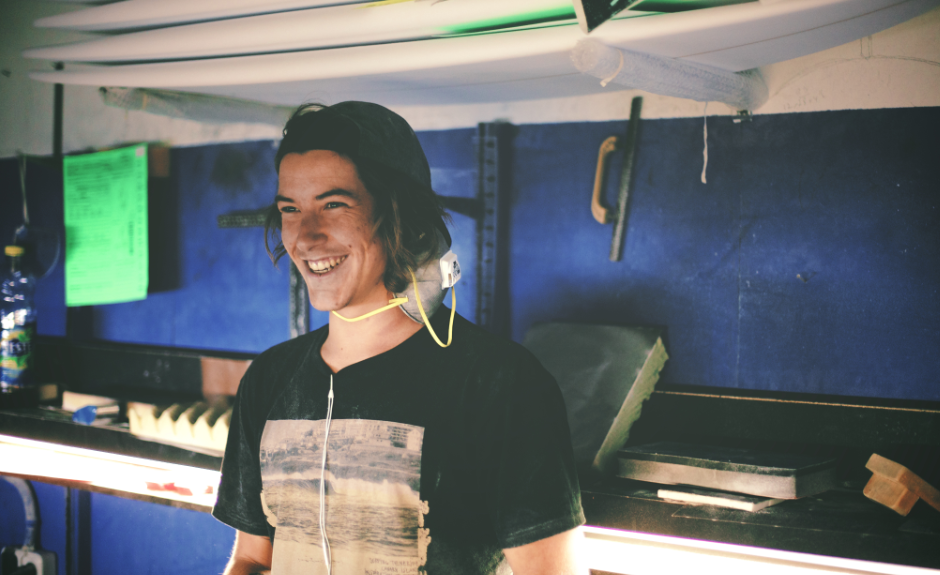 Originaire des Canaries et âgé de seulement 19 ans, ayant shapé sa première board à 12 ans, Taz YASSIN est déjà un phénomène dans le microcosme du shape. Bon surfeur et ayant déjà côtoyé certains des plus grands noms du shape comme Pat Rawson, Johnny Cabianca, Mat Biolos, John Pizel et j'en passe, TAZ a la particularité de maîtriser particulièrement bien l'ordinateur, arme redoutable dans le shape contemporain. Cela lui permet d'avoir étudié de très près les moindres contours d'innombrables modèles largement éprouvés par les meilleurs surfeurs… Son slogan le traduit en substance: « Take the best that exists and make it better » Certains ont déjà misé sur lui, Pukas bien sûr mais la nouvelle marque tendance Vissla également à travers son programme
Et les outils à la main, pour l'avoir vu de mes yeux à l'atelier Pukas, je peux vous dire que le garçon assure ! Précision du geste, touché de planche, concentration, décontraction, je dirais même style et élégance, de l'artisanat de haute classe !
Après quelques années à s'être fait la main entre autre pour Pukas Kream, la sortie de son propre label Pukas TAZ pour 2015 fera très certainement un carton ! Ma première du nom fonctionne en tout cas à merveille !
Pour en savoir plus sur TAZ, cliquez ici : www.tazsurfboards.com